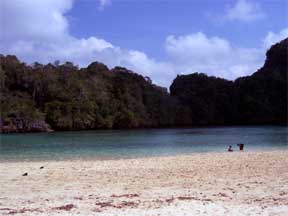 good day to accompany our days travel time, it is a very nice is not it?
this time I will post an island that is in poor ..
These islands include good as well.
if you want to know what this island.
Set out in the evening of Surabaya takes about 3.5 hours to four hours to reach the region Sendangbiru Coast, Malang regency. Traveling at night is clearly more to save time, because the streets deserted.
After passing the city of Malang and Kepanjen, the road is not too wide, and started a lot of farming areas, and occasionally through the countryside is not too large. Moreover, if traveling at night to coincide with the full moon would be giving the impression of beauty.
Approaching Sendangbiru streets rather narrow paved road and then right on the beach Sendangbiru out. If you bring your own vehicle can be parked on the beach and immediately opened the tent on the beach filled with small outrigger boats, motorized passenger boat, and fishing boats. From the beach we could rent a blue spring board for 40rb (round trip) to take across to the Island Sempu with a maximum capacity of 15 people.
Another beauty of which can be found on the island Sempu is how to swim in water that is very clear (in the immediate progeny) and to have a hobby can freely enjoy snorkeling underwater scenery because this place had become institutionalized coral reef without having to fear a wave swept.
In the lake there Sempu called Segara Anakan. This place is more like a small lake surrounded by high rocks that limit the high seas,
Indonesia southern ocean or a tempestuous sea.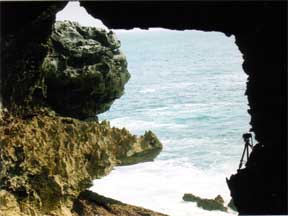 Segara Beach Puppies
Supply water to the lake is derived from a large hollow rock in the middle, which periodically presents a picturesque view of splash-splash of water waves which hit the reef. Most of the water flowing into the Segara Anakan.
hole through which sea water into the Segara Anakan
In addition to swimming in a giant, visitors can also relax with a game of beach volleyball. For those who enjoy the natural atmosphere of the original, far from the noise of modern life, the island Sempu provide a solution, just do not expect five-star hotel, but brought his own bed.
Besides, it also can climb around Segara Anakan coral, from the rocks we could see the ocean waves that erode terbing2 giant, very beautiful indeed.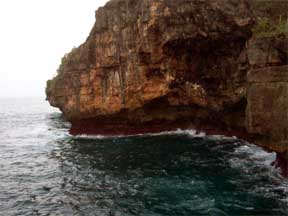 the story from > magentatour.wordpress.com
Don't Forget To Share :)